The need to work proactively at creating and maintaining a high performance organizational culture has perhaps never been more challenging, and never more important. The difficult economy has driven a renewed need for improvement and systemic change within many organizations: customers expect more, competent workers are growing scarce, and competition is intensifying.
Every business has an opportunities for improvement. But where does one start?
The Corporate Culture Optimization was designed to:
Allow an organization to accurately measure the engagement level of their employees and provide leaders with critical information to target where action will be taken.
Provide an objective analysis and actionable feedback based upon confidential employee responses to a brief online assessment.
Facilitate the improvement, alignment, and integration of overall organizational effectiveness and capabilities.
Monitor progress over time
This assessment is built upon a proven organizational high performance model, and upon completion an individual respondent views a graph similar to the one below which represents his or her individual perspective.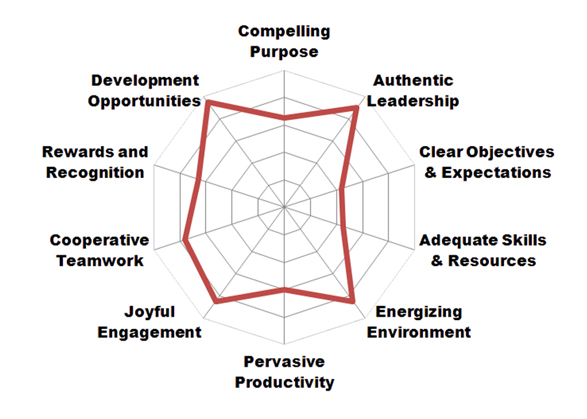 When your entire organization completes this assessment, you are able to generate reports wich provide you with the aggregate results for all employees.
In addition you can generate reports for company divisions, departments, geographic areas or specific work groups. This can help you customize your overall organizational development planning for each area.
"We were able to identify specific areas of the company where we clearly needed to give more attention to employee recognition and retention. This assessment helped us target our resources to where they were needed most, and definitely helped us retain some of our most highly valued employees."
Vice President, Organizational Development Mayo Clinic Health System
The 10 assessment categories help you answer the following questions:
Compelling Purpose - To what degree do employees feel that the business exists for important reasons beyond achievement of financial targets?
Authentic Leadership - To what degree do employees trust leaders and align with their direction for the organization?
Clear Objectives & Expectations - To what degree do employees know exactly what is expected of them, and how their efforts contribute to strategic business objectives?
Adequate Skills & Resources - To what degree do employees feel that they have the skills and resources necessary to do their jobs well and achieve required objectives?
Energizing Environment - To what degree does their working environment help employees to maintain a high level of energy and motivation throughout the work day?
Pervasive Productivity - To what degree are ALL employees highly productive and not dependent upon a small number of "go to" colleagues?
Joyful Engagement - To what degree are employees truly engaged, happy and excited as they work each day?
Cooperative Teamwork - To what degree do employees feel that they can count on others throughout the organization to help them when needed?
Rewards and Recognition - To what degree do employees feel that rewards and recognition are meaningful, fair and objectively targeted?
Development Opportunities - To what degree do employees feel they have opportunities in the business to grow and develop?
"We look forward to serving your organization and exceeding your expectations"