Whatever your position in business and in life, the ability to contribute to productive and motivated teams will help you work and live more effectively with co-workers, family members and friends.
Chances are, much of what you do at home and on the job involves other people: co-workers, suppliers, customers, family, friends, etc. Most individual in the modern work world interact with others throughout the day, every day.
Successful team-based organizations—where virtually everyone supports the group's mission and (more importantly) feels supported BY the mission—are committed to the philosophy that on the path to success, no one will be left standing at the side of the road.
In well-functioning and high-performing work teams, individual team members know they can count on their peers for cooperation rather than competition. They can depend upon recognition and reward in direct proportion to the real value created for the organization as a whole.
Yet many organizations foster (consciously or unconsciously) more competition and conflict than collaboration and cooperation. And many employees report a tangible disconnect between value created and recognition/reward earned within their organizations: the "winners" are often not the actual "producers."
The Purpose of the Team Building Optimization:
Individuals are complex. Teams are profoundly MORE complex. And the purpose of this Assessment and Development Guidebook is to help you simplify and clarify some of the complex issues that may be hampering your individual and team productivity.
The good news is that these are all learnable skills. Through greater personal and group awareness, along with a commitment to continuous day-by-day improvement, you CAN develop high-performing teams throughout your organization.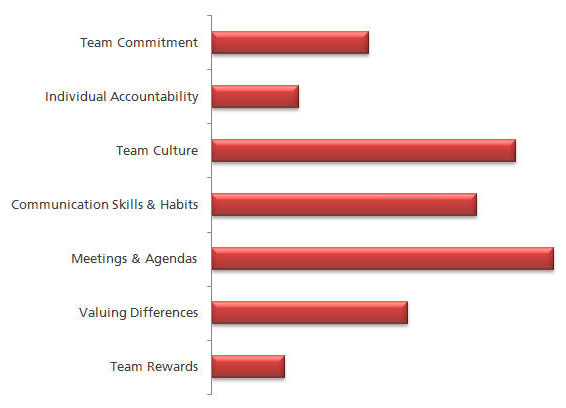 This online assessment helps you pinpoint the specific behaviors, skills, habits and attitudes you can develop for improved communication effectiveness. It includes an assessment of behaviors and skills in 8 categories, providing a graphical representation of each individual's unique strengths and development opportunities related to productive teamwork.
To find out more you can request a free preview which will allow you to experience the online assessment, see the results and understand how focused skill development is linked back to an individual's strengths and development opportunities.
By objectively identifying strengths and development opportunities at both the individual and organizational level, you can focus your team development efforts on those areas most likely to enhance productivity.
"We look forward to serving your organization and exceeding your expectations"