Business Partners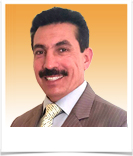 Dr. Himmat Alkhateeb is a professor, a leader, a survivor and a developer. Holding two PHDs; one in English & HR Management....
Dr. Himmat Alkhateeb is a professor, a leader, a survivor and a developer. Dr. Alkhateeb was graduated from the United States holding two PHDs; one in English Language and the other is in Human Resources Management. He has taught in many worldwide universities such as the University of Oklahoma, the University of Kansas. New York University, Jordan Universities and other many universities. His leadership talent had been born with him since he was in his early stages of school. He lived a very humble and simple life that developed and enriched his mindset. Dr. Alkhateeb developed himself before he worked on developing others. He became one of the world's champions in martial arts and worked as a bodyguard with many leaders around the world.
As a matter of a fact, Dr. Alkhateeb is a Training and Development Leader with extensive experience working with all organizational levels creating, promoting, and delivering training solutions designed to support the organization's business plan. He is passionate about creating an interactive and enjoyable business environment that supports learning and creativity.
Prior to this role, Dr. Alkhateeb has worked with many Royal Family members designing and delivering successful programs in leadership, team building, diversity, communications, change management, performance management as well as many other topics. His work has always been focused on meeting the strategic needs of the organization and individuals as well.
"We look forward to serving your organization and exceeding your expectations"