Business Partners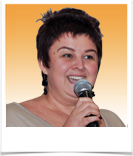 If life school would have a teacher, Loredana would definitely be the one. Positive, enthusiastic and focused on goals...
she is known as the kind of person who can push you through your limits and make you achieve your true potential.
A professional coach since 2010, she had the experience of changing people's lives for over 500 clients on 1 on 1 coaching sessions and over 3000 clients on her coaching group programs.
Loredana loves working with people therefore she works with companies, too.
But her ultimate test is the happiness and the personal growth of her clients that become her friends.
On her coaching programs Loredana focuses on:
discovering and loving your true self.
getting crystal clear about your mission in life and what makes you special.
setting the steps that you can follow for reaching your potential.
... and having fun all along the coaching journey.
She now leads a self-development movement for women called Woman Empowerment and dreams of changing the lives of 1.000.000 women by the year 2023.
"We look forward to serving your organization and exceeding your expectations"