Business Partners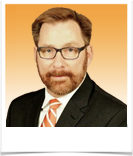 Dan Rust has established a solid track record developing and delivering strategic training initiatives for client organizations,...
both domestic and international, in complex and competitive industries.
As a training strategy consultant, Dan works with client organizations to align enterprise-wide training initiatives with immediate tactical needs and long-term strategic objectives. He has designed and directed development of web-based training programs and e-learning infrastructure as well as audio, video and interactive CD-ROM based training resources.
As a trainer, Dan delivers engaging, interactive workshops that drive lasting learning and skill development. Each training workshop is developed and delivered within the context of a long-term plan. Dan places a heavy emphasis on post-training skill and knowledge reinforcement.
Dan has written and published hundreds of articles on a broad range of business topics. He is also the author of the nine training programs and resources.
"We look forward to serving your organization and exceeding your expectations"