Business Partners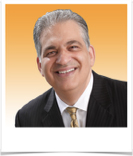 Bob Burg shares information on topics vital to the success of today's businessperson. He speaks for corporations and associations...
internationally, including fortune 500 companies, franchises, and numerous direct sales organizations.
Sharing the principles contained in his bestselling books, Bob has addressed audiences ranging in size from 50 to 16,000. He has shared the platform with notables including today's top thought leaders, broadcast personalities, Olympic athletes and political leaders including a former United States President.
His national bestseller, The Go-Giver has been heralded as a new business classic. It's been translated into 19 languages and has already soared past the 200,000 copies sold mark. His critically acclaimed book, Endless Referrals: Network Your Everyday Contacts Into Sales has also sold over 200,000 copies and continues to be used as a training manual for top sales organizations throughout the world.
He and his coauthor, John David Mann released a companion volume to The Go-Giver entitled, Go-Givers Sell More, which takes the Five Laws contained in the original book and applies them specifically to the selling process.
Bob is an advocate, supporter and defender of the Free Enterprise system, believing that the amount of money one makes is directly proportional to how many people they serve and how well they serve them.
"We look forward to serving your organization and exceeding your expectations"