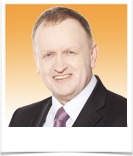 One of the most recognized and respected speakers in Poland for project and project portfolio management consultancy...
and professional project managers coaching. Probably one of the most experienced consultants in this area in Poland.
He managed over 70 projects and gave over 80 speeches, lectures and conference workshops. He wrote over 60 professional articles covering subjects of project and quality management. Now he directs projects of permanent efectivenes improvements for corporations.
He graduated from Electronics Department of the University of Technology in Warsaw and post-graduate studies within Management and Marketing in High School of Management and Marketing in Warsaw. He is an assistant and lecturer in Information Technologies Department of the University of Technology in Warsaw. He has completed a number of courses in issues connected with managing projects, quality, TQM and CMM. He is the author of numerous publications, lectures and reports concerning project management, quality management, production process enhancement, and IT investments profitability pricing. He permanently co-operates with the weekly ComputerWorld and the CIO magazine. He is a member of the Project Management Institute and International Project Management Association. He is the initiator and member of the programme board of the National Conference of IT Systems Quality. He is a jury member of the IT Leader award by the Computer World magazine. The creator of the unique method of organizational processes diagnostics.
From 1998 he worked for Infovide S.A. as a consultant, project manager, auditor and trainer. From 2000 he was the head of the consulting programme ValueIT and managed projects within IT investment profitability analysis. In 2002 he was the President of the training and consulting company Infovide Akademia Sp. z o.o. specializing in project and programme management in modern organizations. In the years 2003 – 2005 he was a research and development director in the company Premium Technology, where he was in charge of introducing solutions supporting large companies in project portfolio management onto the Polish market.
From 2005 – 2008 he was a founder and President of StrictWise Ltd. a fast growing consultancy where was responsible for strategic development and PPM portfolio of products. He has built successful team capable for the biggest PPM implementations in Poland.
Now he owns and develops BlitzProject Group company that offers consultancy and training services (the last under BlitzTraining brand) in area of project and portfolio management as well as business communication and personal skills development.
He has a large experience in consultancy and has well-developed interpersonal skills. He has been a trainer of issues connected with project and quality management and software engineering for 26 years, which accounts to over 4500 training hours. He has authored courses in project, project portfolio and quality management.
"We look forward to serving your organization and exceeding your expectations"