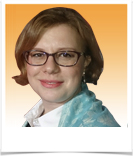 Gabriela Tănase is General Director and Partner of International Consulting Expertise (formerly East West Consulting România),..
consultancy company, since its foundation in 2004. In the same time, Gabriela is Country Manager for Romania for two belgian companies, European Consultants Organisation and East West Consulting, very well placed on Romanian market.
Gabriela graduated the University, Faculty of Geography- Environmental Protection, and during 2001-2003, she worked in Ministry of Waters and Environmental Protection, Directorate for International Programmes and Projects.
Gabriela has more than 10 years of experience in management of projects financed from European Commission programmes, as well as experience as trainer in sectors as project management (all cycles of PCM), train the trainers, structural funds. As general director, Gabriela has a vast experience in the team management, human resources and business coordination and development. The specialised cources in management field that she undertook within Open University Business School, helped her to deepen the knowledge in the field.
"We look forward to serving your organization and exceeding your expectations"