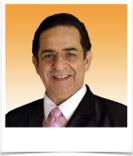 Dr. NADER ASHCHI is an Author, Entrepreneur, Executive Empowerment Coach, Consultant and Founder of Success Story International.
With a proven track record of success, Nader Ashchi's background is a valuable asset to any organization. He has established a solid track record developing and delivering strategic training initiatives for corporations around the world, in complex and competitive industries.
He is the founder of Success Story International, which helps organizations achieve extraordinary results in growth. Realizing that corporate success is directly proportional to the attitudes and performance of employees from the floor level to the executive offices, Nader has incorporated a cooperative, team-based management philosophy, which has been instrumental in the growth and prosperity of his own companies and his clients'.
For decades Nader has assisted corporate leaders and thousands of people worldwide in discovering a richer life in every aspect. He transforms corporations and individuals through his unique and powerful Programs, Seminars, Workshops, Business Consulting and his signature Systems.
As a brilliant leader, executive coach, training strategy consultant, empowerment coach and motivator, Nader works with client organizations to align enterprise-wide development & training initiatives with immediate tactical needs and long-term strategic objectives.
As a trainer, Nader delivers engaging, fun, interactive workshops that drive lasting learning and skill development, while transforming a team into effective, productive, and creative thinkers. Each training workshop is customized, developed and delivered within the context of a long-term plan specific to the organization's needs. Nader places a heavy emphasis on post-training skills and knowledge reinforcement to create habits of proven success principles.
"We look forward to serving your organization and exceeding your expectations"